WrestleMania 27 Rebooking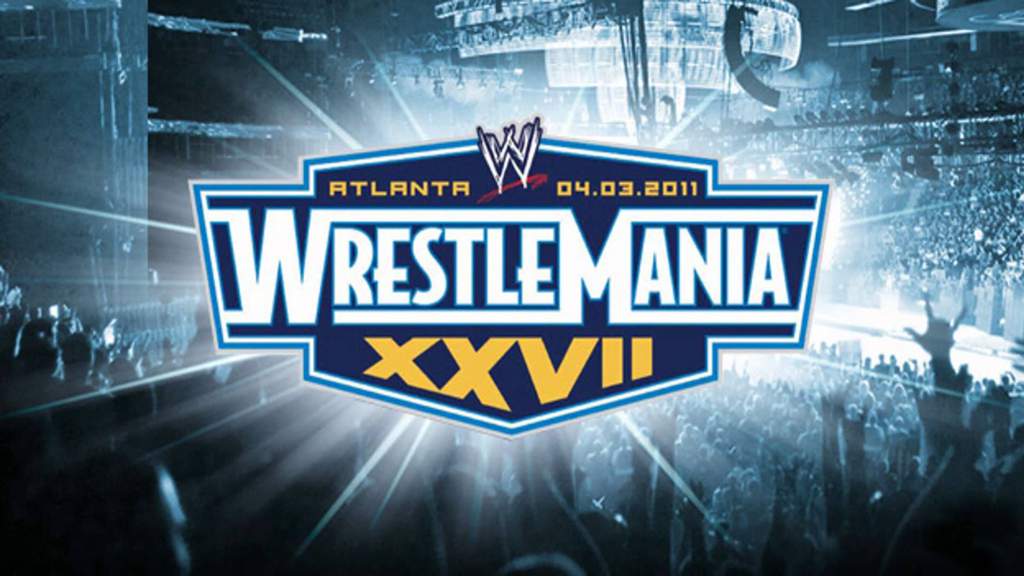 WWE Royally fucked up with this WrestleMania. So before I even get into the card I have two MAJOR changes.
- Wade Barrett & The Nexus beat Team WWE at SummerSlam, Wade Barrett keeps his momentum. Because of this, the Nexus never splits up, CM Punk never gets involved and The Corre is never a thing, Ezekiel Jackson & Mason Ryan are never mentioned. They stick as a 7 Man Faction going into WrestleMania.
- The Miz never cashes in his Money in the Bank. He goes into WrestleMania still with the briefcase.
Also The Rock is still guest host. That will come into play in the Main Event and the Raw After.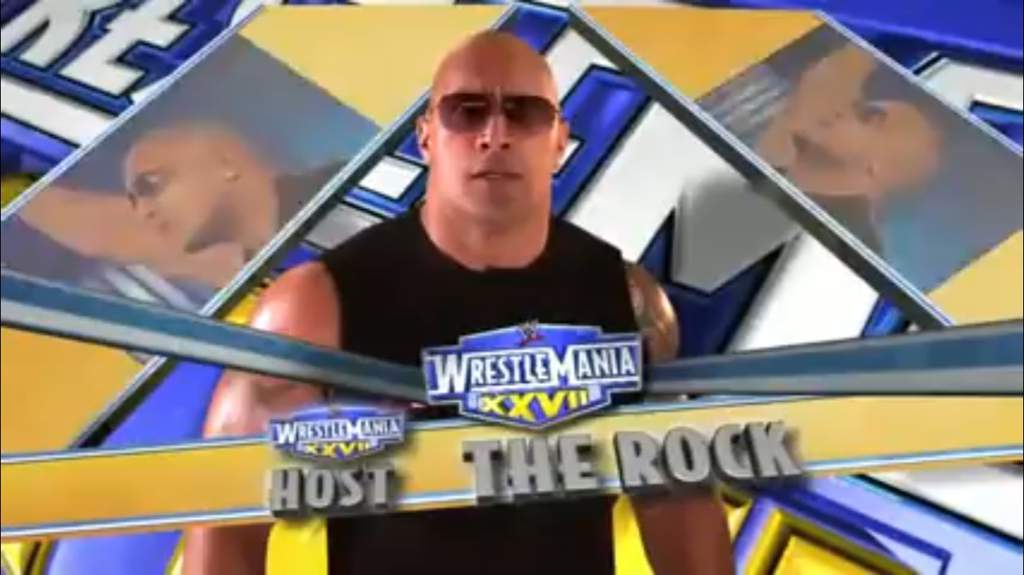 So with all that being established, let's get into the card.
Pre Show: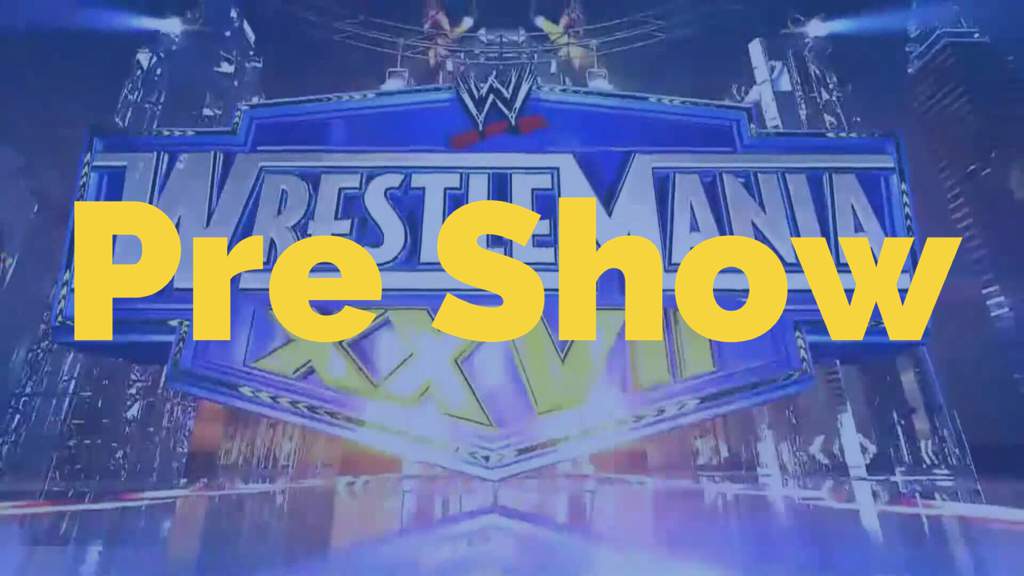 8 Man Tag Team Match:
The Nexus (Tarver, Young, Sheffield & Otunga) vs Sin Cara, Yoshi Tatsu, Santino Marella & R-Truth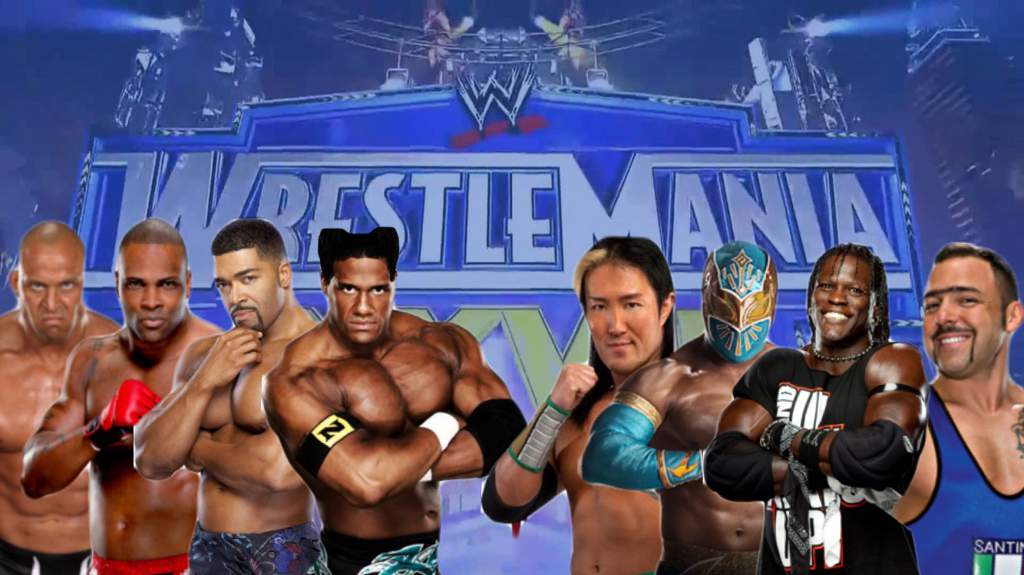 This is basically just getting all the Nexus Members who didn't have a match a match on the Pre Show. Also I didn't have a Pre Show match, and you need to have a Pre Show match, so I came up with this in about 2 minutes. A similar match happened in real life on the main card, but now it's here. Of course, Nexus wins.
Winners: Nexus
Main Card: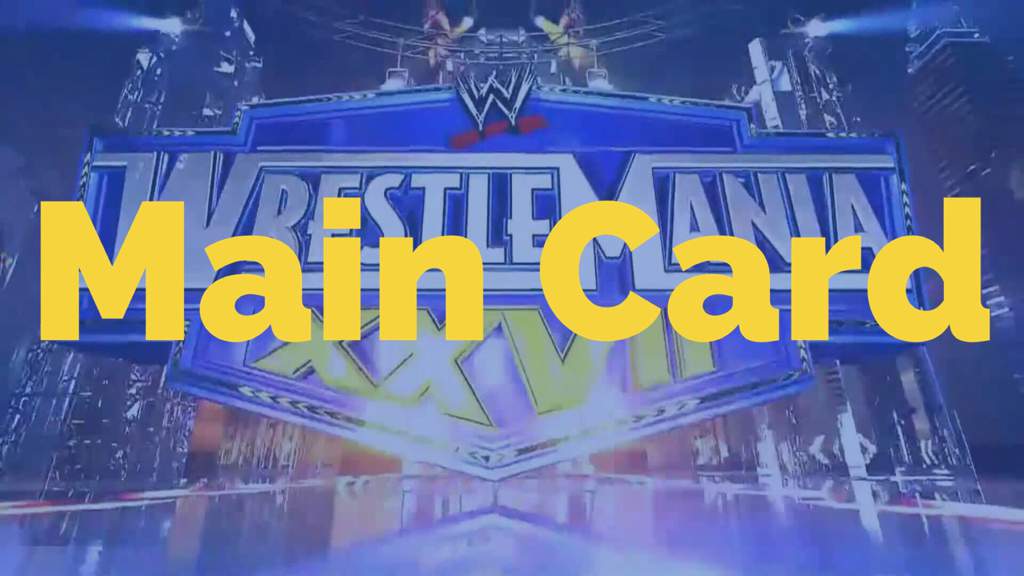 Intercontinental Title Ladder Match:
Cody Rhodes (c) vs Rey Mysterio vs The Miz vs Daniel Bryan vs Big Show vs Drew McIntyre vs Mason Ryan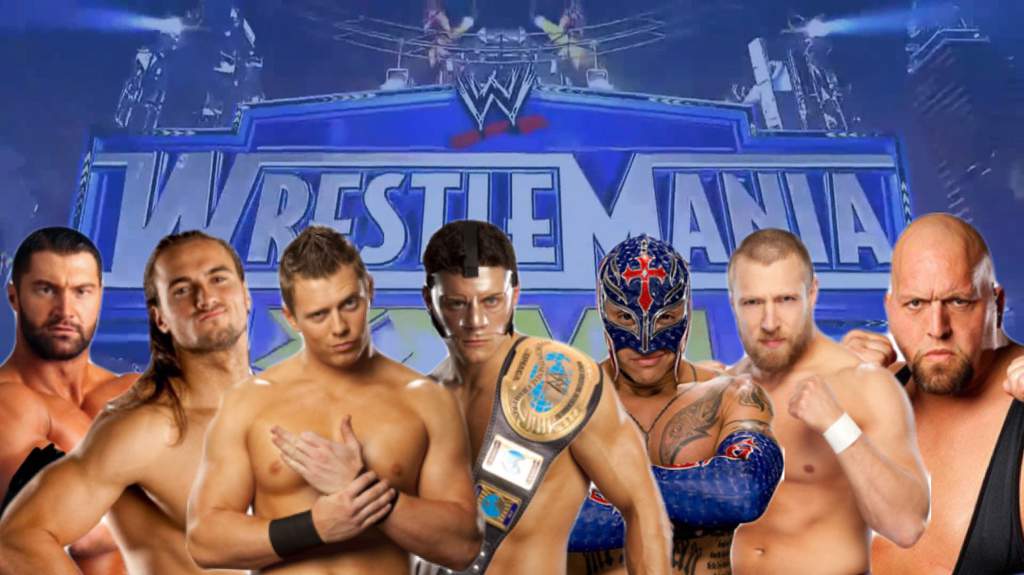 Hey, I know the tradition of having a ladder match for a Midcard or Tag Title didn't start yet, doesn't mean we can't have this match. Those two changes were major changes, that doesn't mean that's all the changes. With Barrett in the Main Event scene, he isn't Intercontinental Champion, which means we need a new one. Cody Rhodes's feud with Mysterio is now for the Intercontinental Championship. You know how Rey fucked up Cody's face with his knee brace, well instead of that, he does it with a ladder. They are having a hardcore match for the title at Elimination Chamber, Rey hits Cody with the ladder, screws up his face, 619, Rey is the new Intercontinental Championship at Elimination Chamber. Next night on Raw Cody reveals his mask, and that whole feud happens, but more people get into it. Next night it's announced a rematch for the Intercontinental Championship. Cody reveals his mask, and later in the night attacks Rey with a ladder. He destroys him with it, he wraps his injured knee around it and slams it into the mat. Rey is left in a world of hurt. Rey is told to not do the match, but the babyface fighting Champion insists he will defend his title. Cody wins due to that injury, Cody is champ. Next week Cody comes out, sets up a ladder, sits on top of it, challenges anyone to a match at WrestleMania for the title. Rey Mysterio comes out and obviously wants his rematch. But then he's interrupted by Daniel Bryan. Then Drew McIntyre comes out, then The Miz (remember, still a midcarder) comes out. Then Big Show, then new star Mason Ryan, and they all want a match against Cody at WrestleMania. Cody then attacks Daniel Bryan with a ladder, and all hell breaks loose. Some other ladders get pulled out, and everyone is using them as weapons, trying to defend themselves from Cody. The anonymous Raw GM says since MITB is now its own PPV, at WrestleMania a 7 Man Ladder Match will be for the Intercontinental Championship, its you 6 vs Cody Rhodes. At WrestleMania it should be a great opener, in the end Daniel Bryan wins the title to a huge pop for the Indie darling. Bryan, Mysterio, and Rhodes have a triple threat match for the title at Extreme Rules, which sounds great. Bryan retains and moves on from Rhodes & Mysterio. Mason Ryan & Drew McIntyre can have a good feud I guess stemming from this match. Big Show doesn't need to do any thing, and The Miz will be occupied after WrestleMania. Wink Wink.
Winner and New Champion: Daniel Bryan
Tag Team Championships:
Nexus (Slater & Gabriel) (c) vs Air Boom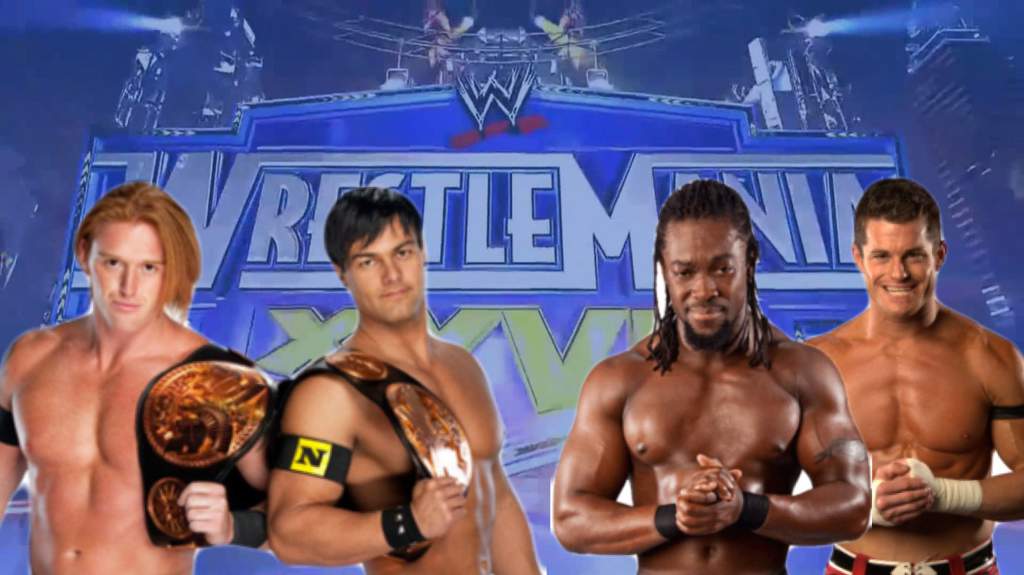 Like I said, The Nexus are still at full force. I know Slater & Gabriel were Champs at the time still, but that was in the Corre. This time they are still in the Nexus, and they will be booked stronger. And I'm not exactly sure, but I think Air Boom (Kofi Kingston & Evan Bourne) was a Tag Team yet, but if they were or not it doesn't matter just make them before WrestleMania. They win a Fatal 4 Way Tag Team Match to face Gabriel & Slater at WrestleMania, then are brutally attacked by all 7 Nexus Members. In the match with this combination of wrestlers it should be an amazing match, in which Nexus retains the Tag Titles clean.
Winners and Still Champions: Nexus
Dolph Ziggler vs John Morrison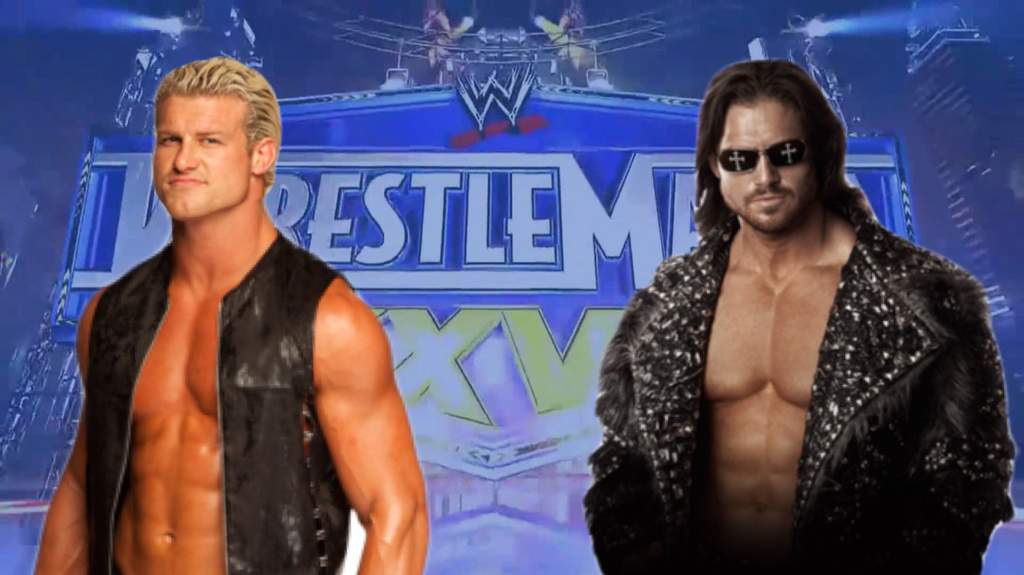 Trim Laycool, Trish and Snooki and there you go. Dolph gets his 1 on 1 WrestleMania match, and we have a great match on our hands. In the Mixed Tag Match in real life Ziggler & Morrison were never the legal men, although they did get physical. In the Royal Rumble Morrison eliminates Ziggler, and Vickie Guerrero and Dolph make his life a living hell. In the Elimination Chamber Match for #1 Contender for the WWE Championship Morrison eliminates Ziggler with his fall from the ceiling, not Sheamus. Next night Ziggler savagely attacks Morrison. He Zig Zags him though the announce table, and crushes his cool glasses into pieces. The anonymous Raw GM announces Ziggler vs Morrison at WrestleMania. At WrestleMania it should be another fun match, and after a bunch of attempts of interference, Morrison fends off Vickie and beats Ziggler, Morrison ventures off into the Main Event scene.
Winner: John Morrison
United States Championship:
Sheamus (c) vs Kane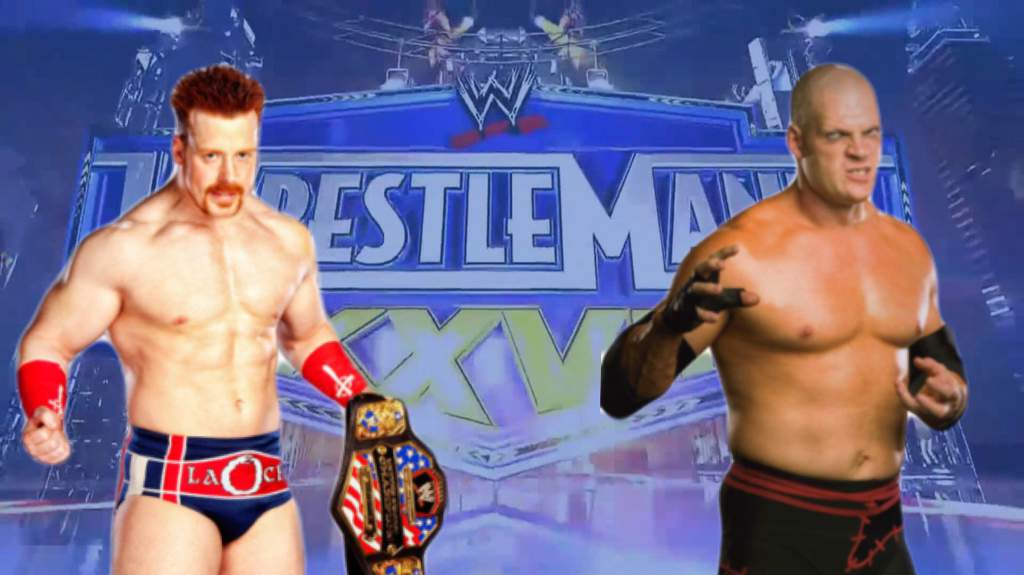 By the way Sheamus beats Daniel Bryan for the United States Championship at the Royal Rumble. Yea I know this isn't he most exciting match but it does no harm. Sheamus was getting super pushed in 2010, he ended Triple H's full time run, he feuded with Orton for the WWE title, then in 2011, he fizzled out and was in the Pre Show. Yea he's still a midcard champ, but that's fine as long as you book that fine, i.e. not in the Pre Show. Kane was still pretty good in 2011, he was World Champion in late 2010. Kane/Sheamus for the U.S. Title would elevate the U.S. Title. So, the night after Elimination Chamber Sheamus is in a Tag Match against Kane. Sheamus Brogue Kicks Kane into the Time Keepers area. After the match Kane attacks Sheamus on the stage, he choke slams him off the stage through two tables. Next week Sheamus gets pissed and puts his title on the line at WrestleMania so he can get a piece of Kane. At WrestleMania Sheamus retains.
Winner and Still Champion: Sheamus
No DQ:
Jerry Lawler vs Michael Cole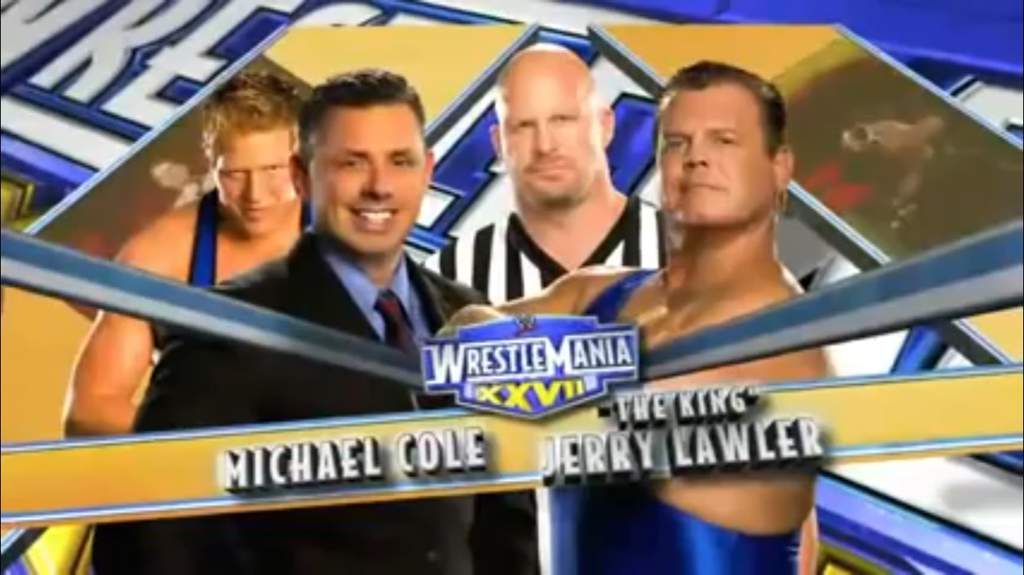 Okay, here we go. This feud wasn't bad leading up to WrestleMania, but starting at WrestleMania and the rest of it was bad. Actually the feud was pretty good, because Cole was a good heel and everyone wanted to see Lawler beat the hell outta him. A feud where the fans get behind a face and really want him to kick a heel's ass that they actually dislike? WWE has none of that anymore, Jesus Christ this is was a layup WrestleMania moment. Jerry beats the hell outta Cole in 5> minutes and him and Austin share a beer after, Cole is humiliated and turns face after. They REALLY screwed this storyline up, which sucks because now people wrongfully look back on it with disgust. So, the whole storyline leading up to Elimination Chamber is pretty much the same, except swap out The Miz with Wade Barrett. But after the Chamber, it changes drastically from real life. Jerry Lawler is trying to figure out who the Anonymous Raw GM is, because whoever it is he wants to take his scepter and shove it all the way up their ass. Because Jerry Lawler really wants to win the WWE Title and defend it at WrestleMania, and this GM is getting in his way. Cole is being an annoying heel, Jerry is annoyed with him with all his antics but Jerry has bigger and better things to worry about. By the way, the GM is Michael Cole, letting you know in advance. He has that WWE Title Match at Elimination Chamber against Wade Barrett, but on the go home Raw the Anonymous Raw GM made David Otunga the special guest referee. Lawler goes over to it and destroys it. At Elimination Chamber Jerry loses due to bad officiating, of course, and now he's out of the title scene. So the Raw after Jerry is pissed, he says since I can't get the WWE Title, I still want the match at WrestleMania, and I want whoever that cowardly Raw GM is. The computer is a notification, but before Cole can read the quote, Jerry calls him out. He says right before the computer did the noise, he noticed Cole was on his phone typing something. The crowd goes "Ooooohhhhh", realizes Jerry is onto something, and Cole might be busted. Cole is playing it off badly, stumbling over his words and his face his red. Jerry comes down and steals his phone. Cole is trying to get it back, making the excuse there's 'personal information' on there. Jerry tells him to back off unless he'll beat the hell outta him right now. Jerry looks through his phone, and asks Cole why one of the people he E-Mails is named "GM"? Cole says it's a coincidence. At this moment, knowing he's busted, Cole grabs the laptop while Jerry is looking at his phone-just know that. Jerry keeps investigating. He sends a little E-Mail to "GM". As soon as it sends, the Raw GM computer lights up, Jerry reveals the culprit, Michael Cole is the Anonymous Raw GM. Cole admits it, then before Jerry can do anything he hits Jerry with the laptop, knocking him out. Cole takes his phone, texts himself something from his phone to the laptop, opens it and reads the thing he sent himself. "At WrestleMania Jerry Lawler will get his match, against me, and the match is No DQ." He shuts the laptop, and his Jerry with it again. The rest of the build up is Jerry trying to get his hands on Cole, but Jack Swagger protects him. Vince McMahon comes out and says he's adding a stipulation to the match, if Jerry wins, you are no longer Raw GM. Cole is shocked, and pissed off about this, and now more desperate. He tells Swagger, if you help me beat him and I get to still be GM, I will book you a WWE Title match after WrestleMania. So Jack Swagger is serious about this. At WrestleMania the start of the match is basically a handicap match. Then 3 minutes in Stone Cold Steve Austin comes out on his quad, and hits Jack Swagger with it, taking him out of the equation, that's one hell of a moment. While Jerry Lawler has his back turned to Cole, watching Stone Cold, Cole tries to take advantage. Cole rolls Jerry up from behind outta nowhere, 1, 2, 3- No! Jerry barely kicks out at 2 1/2. If you can get the fans to actually believe Cole was about to roll him up for the win, that's great. After that Cole takes a steel chair and hits Jerry with it, but Stone Cold had enough. He steals the chair from Cole, makes him fight fair. Cole starts yelling at Stone Cold, but he can't do anything about it. With nothing left to help him but also with Jerry down, he makes the most of this opportunity. He goes to the top rope and tries to drop the fist on Lawler, but Lawler gets out of the way, and the rest of it is Jerry embarrassing Cole. He drops the fist on Cole, doesn't go for the pin, he rolls him to the outside, and puts him in the Ankle Lock. Cole is frantically tapping, but he's on the outside so it doesn't count. At the count of 9 he gets him back in the ring, climbs the rope, drops the fist, and beats Cole. Him and Austin crack open a beer. Swagger stumbles in the ring, right into a huge stunner, Swagger goes flying outta the Georgia Dome. Cole gets up, Austin stunners him, segment over. 10 minutes segment, 4 minute match. It will be good for what it is, NOT a 14 Minute match that ends in a DQ and goes on for a couple more months. No, this match takes place and Cole slowly turns face after WrestleMania.
Winner: Jerry "The King" Lawler
CM Punk vs Randy Orton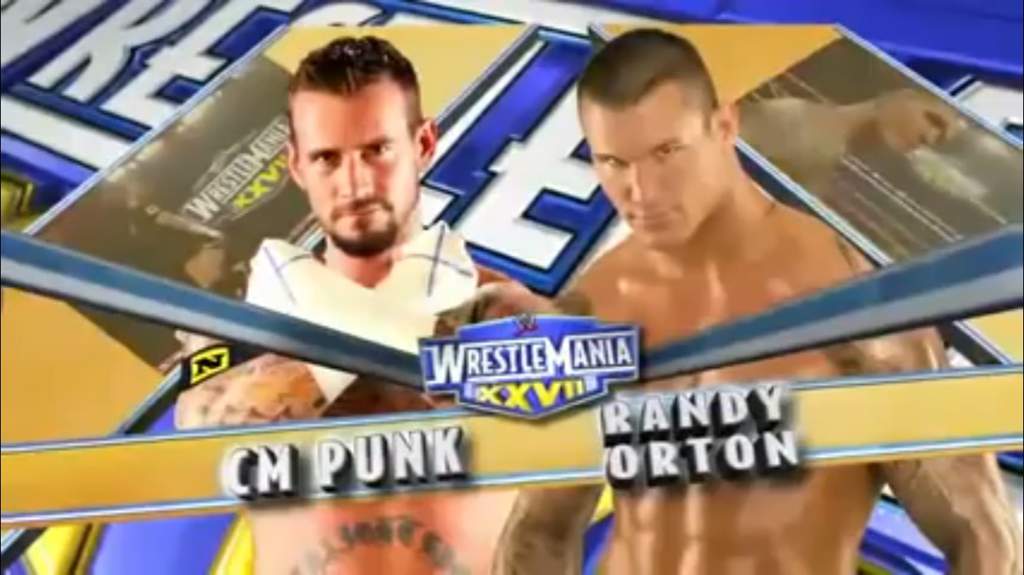 Remember: Punk never gets involved with the Nexus at all, that's still Barrett's baby. Punk is just a singles star with no faction behind him or manager. At the Royal Rumble Randy Orton is having a WWE Championship match with Wade Barrett in their last one on one match for the title. The Nexus keeps trying to interfere, Randy keeps fighting them off. Darren Young gets in the ring, Randy tries to punch him but Young ducks it and Randy hits the ref, the ref goes down. Wade Barrett gets up, goes over to Orton, but gets caught with the RKO. Everyone is down except Randy. Orton is trying to wake up the ref but from behind CM Punk snuck in the ring, he hits Randy with the GTS, puts Barrett on top of him, wakes the ref up and he starts slow counting. 1... 2... 3. Barrett retains. Next night on Raw Punk is having a match with some random babyface when Orton's music hit, and he sprints down to the ring with the intent to kill CM Punk. Punk has the wherewithal to know Orton's about to kill him, and he scurries away though the crowd. Randy Orton gets on the mic and is furious, he asks Punk why he did what he did. Next week Punk explains his actions. The reason Punk did it is the same as real life. Two years earlier Orton punted him and cost him his title, and he hadn't forgot. For what happened, Randy gets put in the WWE Championship #1 Contender Elimination Chamber. Orton tells management to put CM Punk in that match, because he wants to RKO him on the steel. In that match the same thing happens with them as in real life, which I thought was brilliant. CM Punk's pod malfunctions, Randy gets and easy RKO and pin on him because of it. But the Anonymous Raw GM says CM Punk was unfairly eliminated, and puts him back in the match. CM Punk gets Orton from behind, GTS, and Punk eliminates Orton. After that they are on a collision course to WrestleMania. Week in and week out they are trying to murder each other, Orton especially. Backstage fights, fights in the crowd, getting each other DQed, eventually the Anonymous Raw GM puts them in a match at WrestleMania. At WrestleMania in real life they had a pretty good match, 2nd or 3rd best on the card. Nothing really changes, Punk working Orton's knee, and the finish was great. Orton wins, they can feud at Extreme Rules in that Last Man Standing, but I'd have Punk win that so he can go into his huge Main Event Summer of 2011 run with some steam. Orton can go feud with Christian for the World Title.
Winner: Randy Orton
No Holds Barred:
Triple H vs The Undertaker

Literally the same thing as real life, the exact same thing. Not only was this by far the best match of WrestleMania 27, but probably a Top 5 WrestleMania match of the 2010s.
Winner: Undertaker
World Heavyweight Championship:
Edge (c) w/ Christian vs Alberto Del Rio w/ Ricardo Rodriguez

Pretty much the same thing as real life, Del Rio wins the Rumble, Edge retains at Elimination Chamber, match set for WrestleMania, it's his destiny. Except instead of the opener, it's the co-main, where it should be. Edge wins, retires, and Christian beats Del Rio and goes on to feud with Orton, but doesn't lose it in 2 days, he manages to hold onto the title until SummerSlam in that great No Holds Barred Match they had, that Randy wins.
Winner and Still Champion: Edge
Divas Championship Triple Threat:
Eve Torres (c) vs Michelle McCool vs Layla

Although this match gets the death spot at 2nd last, I'm still doing the Divas Championship justice by featuring it on the card at least. Eve Torres, the Divas Champ at the time, didn't even have a Pre-Show match. The only women's wrestling we got at WrestleMania 27 was that Mixed Tag, featuring Laycool, at returning star, and God damn Snooki. So, how about we have Laycool feud with Eve Torres. Leading up to WrestleMania Eve keeps holding onto her belt after having to defend against either Michelle or Layla, as they try to cheat their way to a win. The Raw GM announces a Triple Threat Match at WrestleMania, where Eve has to defend her title in a Triple Threat. In the match Laycool team up, but then they both want the title, and start arguing. This tension builds, eventually letting Eve gain the advantage, and retain her belt.
Winner and Still Champion: Eve Torres
WWE Championship:
Wade Barrett (c) w/ Nexus vs John Cena

The Nexus was the biggest missed Storyline opportunity in WWE history except the Invasion and probably the Streak, although that created one hell of a surprising moment. Anyway, I mentioned this earlier but not only do Nexus beat Team WWE at SummerSlam, they do it convincingly. Have 3-4 Nexus members survive, not a clean sweep but have them be pretty dominant. Barrett goes onto bigger things, he enters that Six Pack Challenge at Night of Champions, like in real life. Also like in real life, Barrett eliminates Cena 3rd, thanks to the Nexus. The Nexus start beating up Orton & Sheamus, but then Cena gets a chair and goes to town on them. They all focus on Cena, Orton catches Barrett with an RKO, and Barrett gets eliminated, Cena runs away. At Hell in a Cell, it's a Fatal 4 Way in the Cell. Orton defends against Sheamus, Cena, and Barrett, the Cell is necessary so the Nexus can't get involved. Nexus tries to get involved, they rush the ring but the locker room clears out to stop them, everyone hates the Nexus. Orton ends up retaining. Because of this, Nexus take out everyone. Every somewhat notable match on Raw is getting thrown out because the Nexus ruin it. They say they'll stop if Barrett gets one more title opportunity at Bragging Rights vs Orton. Desperate, management makes the match, but it's a Lumberjack Match, and none of the Nexus members can be Lumberjacks. Nexus says okay, but since we can't be Lumberjacks, give two of our members at Tag Title match at Bragging Rights and we have a deal. At Bragging Rights Gabriel & Slater beat Santino & Kozlov (I just wanna remind you that Kozlov beat Undertaker clean once) for the Tag Team Titles, they hold them until WrestleMania, where they defend against Air Boom, as you already know. Also at Bragging Rights during the match, the Nexus comes down and they and the face Lumberjacks start fighting, and the heel lumberjacks start fighting for themselves, kinda like a huge triple threat, basically Nexus takes out all of the Lumberjacks so it's just a regular match with a bunch of bodies at ringside. Amidst the chaos, when the dust settles, Barrett hits Orton with the Wasteland (which everyone seems to hate but I quite like) and Wade Barrett is WWE Champion. The Nexus get in the ring, they hold Barrett on their shoulders with the title up, as Gabriel and Slater hold up their titles, huge triumphant moment for the Nexus. So, we're onto Survivor Series. They announce a huge 5v5 match Main Event. Nexus vs Team WWE II, kinda. And if Nexus lose, they vacate the WWE and Tag Titles. Is Orton, Cena, Mysterio, Big Show, & Undertaker (that Buried Alive match never happened in this, he just loses clean to Kane in a No Holds Barred Match) is team WWE. Wade Barrett, Justin Gabriel, Heath Slater, Michael Tarver, and Darren Young are Team Nexus. Wade Barrett eliminates Show first via Wasteland, showing of his strength. Then Gabriel and Mysterio go at it for 5 minutes, where Gabriel eliminates Mysterio with a 450, Nexus are up 5-3. Then, Undertaker double chokeslams Tarver & Young, he eliminates the legal man, Tarver. Cena comes in and eliminates Young, its 3-3. Then a little later rest of the Nexus come down, that distracts the ref, Heath Slater hits Cena with a chair, Barrett eliminates him with a Wasteland. Orton gets in and eliminates Slater with an RKO, but then Orton gets knocked down by Gabriel, and gets 450 splashed, Orton's gone, its Undertaker vs Barrett & Gabriel. All of the Nexus attacks Undertaker, which DQs the legal man Gabriel, but Wade Barrett picks the bones and easily hits the Wasteland, 1, 2, 3-No! Undertaker kicks out at 2 1/2, like he does. Barrett is furious, he goes for a strike but Taker ducks and he accidentally takes out the ref. Undertaker catches Barrett, Chokeslam. But then once again all of the Nexus gang up on the Undertaker, remember the ref is down. Barrett gets up, Wastelands him though the announce table, gets him back in, another one, and team Nexus win. At TLC Randy Orton wants a 1-1 rematch for his WWE Title, he gets in in the form of a Tables match. Barrett wins with help from the Nexus. At Royal Rumble Randy gets his last chance, but CM Punk costs him, as you already know. And also the winner of the Royal Rumble is Alberto Del Rio, so #1 Contender for the WWE Championship is held in the Main Event of Elimination Chamber. Also at Elimination Chamber, Wade Barrett defends against Jerry Lawler, but y'all know what happened their too. John Cena wins the Elimination Chamber Match, and the Nexus attack him after, reminiscent of their debut. The build up is Cena is getting Bludgeoned every week, The Nexus keep beating him senseless, so at WrestleMania Barrett can just pick the bones and retain. At WrestleMania The Nexus interfere and cause Cena to lose, but The Rock doesn't like it. He bans the Nexus from ringside or else Barrett will be stripped of he title, and have the match restarted. Cena wins, and The Rock raises his hand. Next night on Wade Barrett blames some of the Nexus members for the loss, if they never interfered he still would of won, dissension starts building in the Nexus. Also Cena & Rock have a promo together, where they set up their match at WrestleMania 28, and The Rock Rock Bottoms John Cena. This prompts The Miz to cash in his MITB contact and win the WWE Championship. This creates more tension for Cena/Rock in a year, gives Miz his moment, and guys like Gabriel and Slater can become bigger stars after splitting from Barrett. Miz/Cena goes on for couple months, Cena wins his title back at Capital Punishment, just in time for the amazing CM Punk storyline. Sets up loads of feuds stemming from Nexus break up.
Tell me what you though if the card, if it was good or bad, or okay but I missed out on some matches. I don't care what your thoughts are, but please express them in the comments, positive or negative. If you liked it, drop a like on this, if you didn't, don't, I guess.